---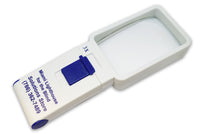 This high-quality 3x illuminated hand-held magnifier uses cool white LED lighting to allow you to read with ease. 
The magnifier has a 75 x 50 mm Aspheric Lens.  
The brightest white LEDs, give a broad, even field of light that have no purplish or blue "bright spots".
LEDs give long battery life. Uses three "AAA" batteries.
Cases are included with all LED hand-held magnifiers. Heavy duty boxes protect the magnifiers.
Durable reinforced contrast-blue switches on all powers. White mounting and handle.
Limited Lifetime Warranty.
LEDs warranted to never burn out.
Large print picture instructions and warranty included in all magnifier boxes.
Battery compartments have high contrast battery directional images.