---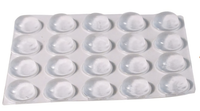 These tactile dots can help you in many ways, to locate keys, buttons and other things.  There is a self-adhesive backing which is easy to apply.  There are 6 dots per package
Product Description
Loc-Dots labelers are an inexpensive, reliable key location system that allows you to easily and accurately orient your hands on a computer or typewriter keyboard, telephone or calculator keypad. These raised tactile dots are great for everyone with low vision, and especially helpful for the blind. You will decrease errors and increase productivity with these labelers.
Place Loc-Dots on the J and F keys of your keyboard to act as a reference, guiding your fingers to the home position without requiring you to take your eyes off your work. Other uses include tape recorders, alarm clocks, business machines, appliances or virtually any knob, button or switch. You can even use these low vision labelers on your keychain to help distinguish similar keys from one another in the dark.
Loc-Dots have a self-adhesive backing, making them easy to apply. Simply peel and stick to the desired surface. 6 per package. Color: Clear.